The longstanding team at Aardent Dental Centre are here to support you in improving your oral health. You'll always find happy faces and a positive attitude at our practice. We love what we do, and look forward to helping you!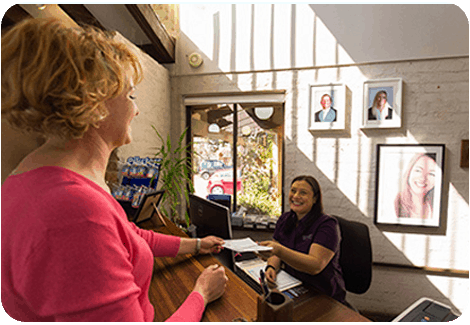 Rochelle Worthington, Receptionist/Bookkeeper/Administrator
With us for many years, Rochelle plays several roles at our clinic. You'll find her to be dependable and forward-thinking, always keeping our patients' best interest in mind.
June Richards, Receptionist
Our patients love June, who's been with us for many years. She's warm, friendly and never forgets a face! June is ready to welcome you and help you feel at home in the practice.
Nicolette Green, Dental Therapist
The daughter of a dentist, Nicolette is driven and caring. She holds an Associate Diploma in Dental Therapy from Curtin University. With much experience in both general and orthodontic therapy, she has a well-rounded understanding of dentistry. She's responsible for cleanings, taking X-rays and educating our patients. Nicolette loves her job and having the opportunity to help patients achieve outstanding oral health. She's been with us for over ten years, providing excellent dental care in a caring, friendly environment.
Nicolette excels in all she does, personally and professionally. She and her husband have been married for 18 years and have two teenage children. Her spare time is spent being a mum and getting her kids back and forth to sailing, dancing, football and cricket, cheering them on from the sidelines. She also enjoys keeping fit and healthy with exercise such as group fitness classes, cooking healthy meals and is always reading a book or two. Her other hobbies include craft activities working with her hands, such as creating stained glass, felting, sewing, beading and jewellery making.
Stefanie Pearce, Dental Hygienist
Stefanie earned her Associate Degree in Dental Hygiene at Curtin University, graduating in 2000. She's worked in various private practices before joining Aardent Dental Centre in 2009. She likes being a part of our friendly, helpful team of happy, considerate and easygoing individuals who truly care about our patients. Additionally, Stefanie enjoys helping clients manage their oral health, educating them about preventing decay and gum disease. She's a member of the Dental Hygienist Association
In her spare time, Stefanie likes to be with her partner and young daughter, relax and go on holiday.
Ashlee Manolini, Dental Assistant/Receptionist
Ashlee's vibrant energy provides a wonderful, positive experience for our patients. She's here to assist our team with your visits and make sure everything goes smoothly for you.
Andressa De Souza, Dental Assistant
A qualified dentist in Brazil, Andressa works as an assistant to our dentists. She's extremely knowledgeable in the dental field, not only benefitting our team but our patients, too.
Experience the highest quality of dentistry given by our compassionate team. Contact us today to book your time!